Everyone should throw away all their other ATM cards for this little, white one!
It is the best American ATM card for travelers and daily use 
---
12 Reasons to get a Charles Schwab ATM card: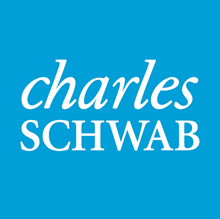 No International transaction fees⇐
Charles Schwab bank will return all your ATM fees at the end of every month due to there being no Charles Schwab ATM's
No account minimums
You can set up this account for investing reasons, as well, or just for personal day-to-day use
Everything can be done online or through the app (One can also visit their local branch for in-person help)
0.15% APY on your account balance
One can deposit checks from anywhere with Schwab Mobile Deposit™
A free Schwab Bank Visa® Platinum Debit Card and free standard checks
FDIC insurance up to $250,000

 

A linked Schwab One® Brokerage Account
One can link: Android Pay, Apple Pay®, Microsoft Wallet, and Samsung Pay when you set up your compatible devices
Convenient and more secure online purchases when you enroll your Schwab Bank Visa® Platinum Debit Card with Visa Checkout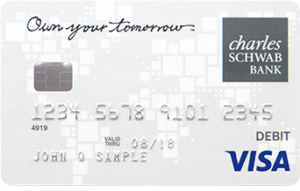 ---
---
Checking Accounts: How Schwab Bank Compares to the Competition

Charles Schwab Bank
Bank of America
Chase
Citibank
Wells Fargo
Checking Account
High Yield Investor Checking
Interest Checking
Premier Plus Checking
Priority Interest Checking
Preferred Checking
Annual Percentage Yield
0.15%

Earn at least 4X more at Schwab Bank

0.01%

Below $50K: 0.01%

$50K – $99,999:
0.02%

$100K+: 0.02%

0.01%
0.03%
0.01%

Below $500: 0.0%
$500+: 0.01%

Monthly Fee
$0
$25
$25
$30
$15
Minimum Balance Required to Waive Monthly Fee
$0

Must be linked to a Schwab One®brokerage account.

$10K minimum daily balance
$15K minimum daily balance
$50K Minimum Daily Balance
$10K minimum daily balance
ATM Fee Rebates
Unlimited
No
Limited
Waived
Limited
Foreign Transaction Fees
$0
3% of transaction amount
3% of transaction amount
3% of transaction amount
3% of transaction amount
More information about the above accounts will be found on the competitor websites.  
---
*We are not a paid advertisement for Charles Schwab. We just enjoy their ATM card benefits and would like to pass on the information to others.
---
Interested in planning a road trip to the West Coast? Submit your dream vacation here and we'll give you a FREE quote on your trip + a customized itinerary!
Want to Travel For FREE? Join our community of Travel Affiliates and earn commission for every travel package you sell + free travel opportunities!
->Follow @Caliquests on Facebook, Instagram, Pinetrest, Tumblr, and Twitter for access to West Coast adventures like a local on a budget!