5 Easy Ways You Can Practice Sustainable Travel
Sustainable travel has become a popular topic in the tourism and travel industry. According to booking.com, 87% of global travelers want to travel sustainably on their next trip. The same study reported that 67% of travelers would be willing to spend 5% more on their travel to ensure the environmental impact was as low as possible.
This data shows that travelers are now aware of the negative impact tourism can have on local communities and the environment. Fortunately, there are many ways you can make your travel more sustainable without having to spend extra money or time.
The term overtourism is a new word that is defined as "An excessive number of tourist visits to a popular destination or attraction, resulting in damage to the local environment and historical sites and in poorer quality of life for residents."
The increased availability of affordable travel options opened the doors to billions of travelers, but the influx of tourism to the world's most popular destinations comes at a cost to both local communities and the environment.
Many of today's most popular affordable travel destinations are located in developing countries such as Vietnam and the Philippines. The importance of sustainable travel is obvious when considering the amount of damage over tourism can cause and the long term problems it can create for developing countries.
These problems not only cause environmental hazards such as pollution, but also can be harmful to the local communities and culture. Studies have shown that the tourism industry pays more attention to the tourist's needs than to the local community's needs.
Why is sustainable travel important?
Sustainable travel is a framework for engaging travelers and travel companies in supporting goals that reduce the environmental damage caused by overtourism. Sustainable travel is based on finding ways to positively impact local communities. In 2019 there were an estimated 1.4 billion international arrivals.
The majority of these arrivals were at popular travel destinations and UNESCO sites. Even though UNESCO sites are supposed to be carefully preserved, over tourism still takes a toll on beautiful places such as Vietnam's Halong Bay.
During a recent trip to Vietnam I enjoyed a two day cruise along Ha Long Bay. While the scenery was otherworldly and serene, when I looked to the water I saw plastic bottles, condoms, feminine products and other waste items floating in the bay.
This is just one example that shows how "protected" destinations are still affected by the impact of tourism and that there is a growing need for more sustainable travel options.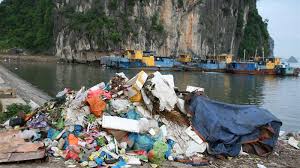 Pollution on the shore of Ha Long Bay
As global tourism continues to grow every year, travelers and travel companies must take responsibility for preserving the world's beautiful destinations and reducing negative environmental impacts.
How can you become a sustainable traveler?
Sustainable travel does not need to be expensive or time consuming. In fact there are many easy ways you can make your travel more sustainable.
Here are five ways you can make your travel sustainable:
1. Travel during off-season
This is one of the best ways to make an immediate impact as a sustainable traveler. Every destination in the world has a peak season and off season. During peak season at popular tourist destinations like Greece and Thailand cause long term structural damage, pollution, and price locals out of communities. In order to reduce the negative effects caused by overtourism, you should always try to travel during off season if you can. Not only will you be rewarded by fewer crowds and lower priced accommodations, but you will also get a chance to see how the locals really live and enjoy the region's true culture.
If you can't travel during off season, you should look into alternatives for the popular destinations and then return to them later during off season. (Travel tip: skip the crowds at Muir Woods, and opt for a quick road trip down to Big Basin State Park where you'll find equally beautiful redwood forests.)
2. Don't use plastics
This should be obvious. Unfortunately it's easy to forget how dangerous plastic is to the environment. Countries such as Thailand are known for giving plastic straws with a purchase of a plastic water bottle. Instead, you should pack your own refillable water bottle. Or opt for a water bottle with a purifier built into it. 
If you do choose to use plastic products (we forgive you!), try your best to find the most eco-friendly place to dispose of it. If you can't find a proper disposal for plastic you should pack it up and take it with you.
3. Stay at sustainable accommodations
The most sustainable travel accommodation is technically a tent (built from bamboo and palm fronds). Not surprisingly, tents are not the preferred accommodation for many of today's travelers. If you have your own tent and are going somewhere like a national park that allows camping then you should opt for spending the night under the stars. 
If camping isn't your thing, there are other environmentally friendly alternatives. Eco-lodges are another sustainable travel option that provide comfortable accommodations in a natural setting and have environmentally friendly initiatives in place.
If you're interested in experiencing a deep dive into the local culture, you can seek out farmstays or homestays, both of which are very sustainable and have a positive impact on guests and hosts.
4. Research your tour provider
You should always research the travel provider you use and choose the most sustainable company. The easiest way to find out if your tour provider is a sustainable travel company is to look at the  menu on their website and review the About page (many companies have pages dedicated to showing their sustainable initiatives).
If the tour provider doesn't have a website, you can email or call them and ask the following questions:
Fair wages (are they employing local residents and paying them well?)
Ask for examples of the company's environmentally friendly practices.
Cali Quests offers several sustainable travel initiatives. We plant a redwood tree for every traveler who books a trip with us, and donate 5% of our net profits to wildfire relief charities. Cali Quests also practices sustainable travel by promoting independently owned tour companies and local businesses.
5. Buy souvenirs and choose restaurants that support the real local economy
Be mindful of the souvenirs and crafts you buy and always check if the items are locally made or imported from China. Supporting the local economy is one of the best ways you can practice sustainable travel. Another great way to boost your sustainable travel efforts is to choose restaurants that use local ingredients and are owned/operated by residents of the area. Not only does this guarantee a fresher tasting meal, but it also stimulates the local economy.