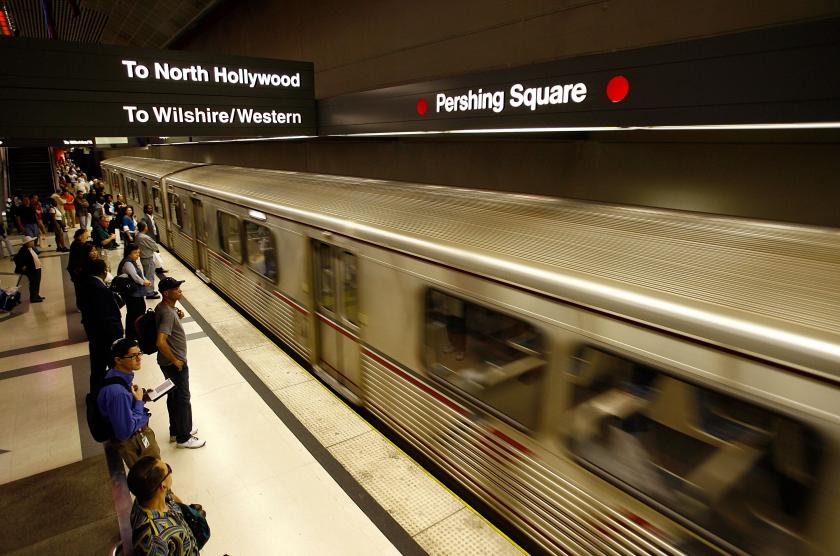 savings saving savings… no need for a car in Los Angeles when you can take the Metro Rail.
The Metro Rail is cost efficient  
Riding the Metro over having a car saves you an average of $300+ a month. The Metro is still more cost efficient when it comes to saving money on monthly car payments, car insurance, gas, tune up, etc. 
Metro Day Pass: $7.00   
Base Fare: $1.75
Weekly Pass: $25
30-Day Pass: $100
Reloadable Tap Card: $1.00
Reduced fare cards are available for Seniors, disabled/medicare, college/vocational students, and students K-12.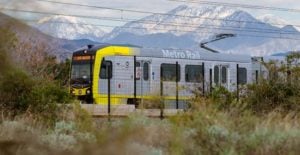 You zoom by the morning and afternoon traffic  
There is no better feeling than NOT being stuck in rush hour traffic. You can literally wave at the angry driving stuck in traffic. The Metro may be more packed at those times but at least it won't double your time getting home.

The Metro can take you all around Los Angeles county   
There are now six total lines with 93 total stations (2 heavy rail lines and 4 light rail lines). It takes you to many of the tourist attractions. If not one can take a cheap Uber or bus to their final destination
Blue Line

goes from Downtown LA to Long Beach passing through South LA and Compton

Expo Line

goes from Downtown LA to the Santa Monica Pier

Gold Line

goes from Azusa to East LA passing through several attractions including Little Tokyo, Union Station, Chinatown, and Old Town Pasadena  

Green Line

goes from Redondo Beach to Norwalk with convenient transfers to LAX

Purple Line

goes from Downtown LA to Koreatown

Red Line

goes from Downtown LA to North Hollywood
All Metro lines run from 5 am to midnight with limited services between midnight and 5 am. Weekend operations are until 2 am. Wait times are only 5-20 minutes depending on the time of day.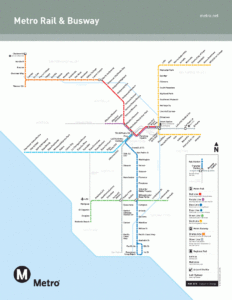 The Metro expanded in May 2016
As of Friday, May 20, 2017 the Expo Line runs through some of West LA and all the way to the Santa Monica Pier. This 46 minute ride, from Downtown to the pier, is a much easier alternative to driving the congested Santa Monica Freeway. Further expansions are currently on their way
Due to the new lines many of the Metro cars are clean and efficient
*I do not own these pictures! These pictures are intended for customer knowledge, not for profit.
---
Interested in planning a road trip to the West Coast? Submit your dream vacation here and we'll give you a FREE quote on your trip + a customized itinerary!
Want to Travel For FREE? Join our community of Travel Affiliates and earn commission for every travel package you sell + free travel opportunities!
->Follow @Caliquests on Facebook, Instagram, Pinetrest, Tumblr, and Twitter for access to West Coast adventures like a local on a budget!